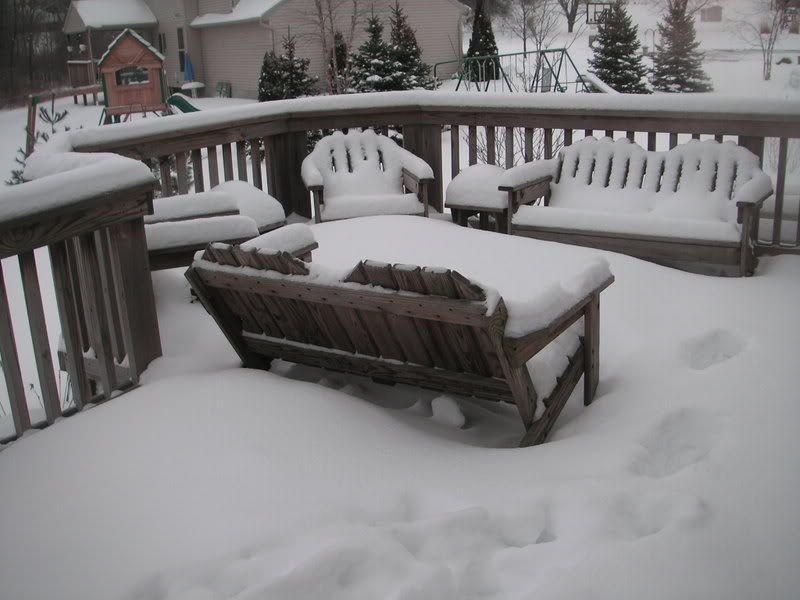 Recently, my friend and colleague, Valerie, posted the above picture on
Facebook
and asked if anybody wanted the furniture. I happened to catch the notice first and jumped on it with both feet. So as of Sunday, my family left and this furniture arrived. Well, my Dad and I went to get it. Of course, there is far less snow on it now.
Over all, the furniture is in decent shape. It's a bit weather-beaten and it might need some reinforcement, but, then again, who doesn't need a bit of TLC? So, my project for the week has been to beautify this wonderful
Adirondack
furniture.
Monday night:
Went to Home Depot and bought sea foam green stain, indoor/outdoor paint, brushes, etc.
Began to stain the furniture.
My mind wandered as I spread stain and listened to the crows and locusts. I was glad to be able to do this project uninterrupted with no one giving me advice or taking it over
My neighbor Wally walked over and took the brush from my hand and showed me how I ought to do it
I finished the stain, the 50% chance of thunderstorms falling in my favor
I walked over to the Tiki and had one beer on an empty stomach
I staggered home and hit the hay with some Murder, She Wrote
Tuesday night:
I grabbed a bite to eat on the way home
I goofed off on the computer for too long
I began painting the decorations on the furniture, whose stain looks lovely (I can't take a picture; Doc has the camera)
I completed the design on one of the love seats and nearly completed the other, but ran out of light
I had one beer, hit the hay with some Newhart
Tonight I plan on going straight home and finishing my designs while it's still light out. I also want to paint a quote or aphorism on the cross-pieces of the love seats. Something short and sweet. I was thinking maybe "Tempis Fugit," but I'm not completely sold. What do you think?